Posted: 12/22/09 01:56 AM
Author: gooers
Location: USA
Posts: 2

[Reply]

[Forward to a Friend]


Make Your Families and Friends A Video for Christmas
---
Make Your Families and Friends A Video for Christmas

What are you going to give your friends/families for Christmas? Do not decide yet? Here I will give you a suggestion. You can make a video and send to them. It will be a great present for them. You may make a video from your own media source: videos, pictures, songs and you can write something you want to say to them.
Do you like my suggestion?
Yes, let's do it.
Here you need a SlideShow Maker to help you to do that.
There are many SlideShow Maker on the internet to download and I use this one.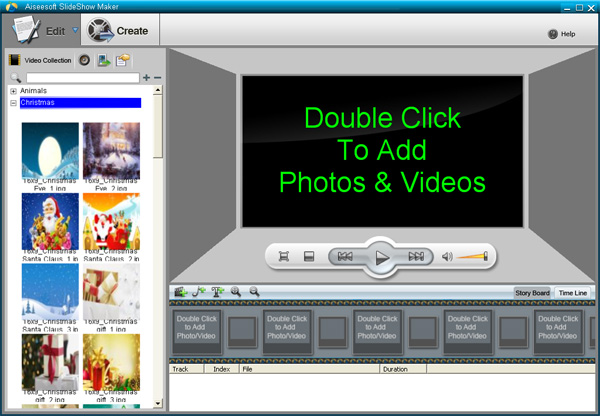 Things you need:
1. Source: Videos, picture, songs and what you want to say to them.
2. SlideShow Maker

How to make your own videos for your families and friends
Part 1. How to add videos/picture/songs/word
1. How to add videos?
Double click the preview window or the box in the "Story Board" to find the videos on your computer.
It can save your videos in it and you can find it easily in "My video" next time you want to use it.
2. How to add pictures?
You can add videos from your computer the same as add videos.
This SlideShow maker provides you many beautiful pictures on the left side of the interface. It is classified as "Animals", "Christmas", "Halloween", "Plants", "Scenery", "Season" and "Wedding"
3. How to add songs?
Click "Add Muisc" in the Story Board to add your music.
4. How to add words on the screen?
Click "Add Text" to add your words on the screen.




After you add the video, picture, or songs, you can see their properties of them and you can also edit it on the property section

Part 2. How to add transitions between two source you add
A default transition will be added when you add two sources(pictures or videos). When you click the boxes between two source in the story board you are allowed to change the transitions(it provides you 19 transitions for you to choose).
You can adjust the duration and other settings of the transition, such as "Motion", "IrisStyle" and so on.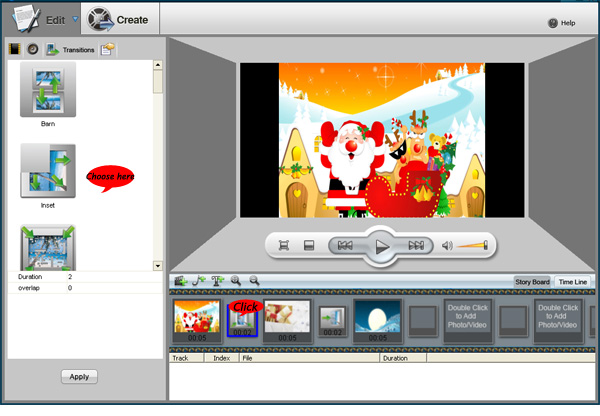 Part 3. How to edit the source you added
1. How to edit videos you added
When you click the video you added on the Story Board, you will see the edit interface and you can do crop and trim under the previews window. When you click the triangle at the bottom of the preview window, you can go to the preview interface. In there you can preview your video and full screen is available.
On the left side you can see the detailed settings of the video, such as video size, video effect, aural effect and so on. You an also adjust the settings in property section.

2. How to edit the picture you added
Choose the picture and you can edit it directly on the preview window, such as crop the picture. On the property section you can edit the detailed settings of the picture.

3. How to edit the songs you added
Select the music you added, and on the left side you can see the info of the audio file. You can edit it here directly, such as sample rate, fade in and fade out and so on.

4. How to edit the words you added
You can add your words after you double click the "Sample Text" or select the Caption. Other settings are really easy to set on the left side property section.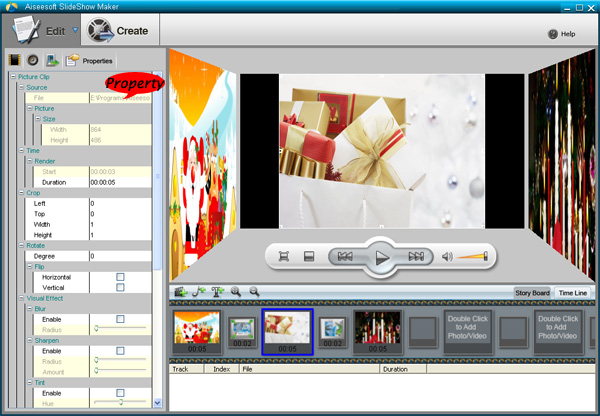 After you have done all the things you want to do you can click the "Create" button. Here you will go to the create section. You are allowed to choose the output profile and edit the specific settings, such as "Resolution", "Encoder", "Bitrate" and "Frame Rate" and so on.

This powerful SlideShow Maker can help you to create your slideshow to MP4/MKV/WMV/AVI and other popular formats such as: H.264/MPEG-4 AVC, FLV, MPEG-1, MPEG-2, 3GP, 3GPP, DivX, Mov, M4V, DivX, XviD, ASF, SWF, VOB, DV, Super VCD(NTSC, PAL, SECAM), VCD(NTSC, PAL, SECAM) , DVD(NTSC, PAL, SECAM) and so on.